B L O Q U E O
Looking at the U.S. Embargo Against Cuba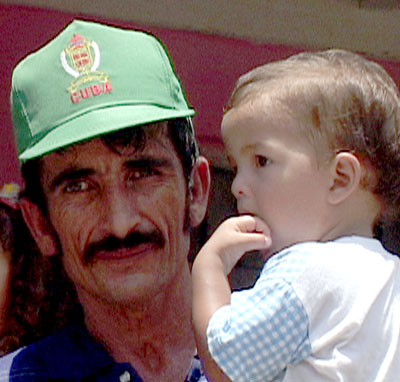 Looking to really find out how the blockade affects Cuba? Sick of the media spin? Want something more substantive on the Cuba debate?

"Bloqueo: Looking at the U.S. Embargo Against Cuba" is a newly-released documentary by two young filmmakers that offers some answers.

Featuring voices from the streets of Havana and the Cuban countryside, Bloqueo (or blockade) lets Cubans speak for themselves about how they have been affected by the blockade, and what it means to live in Cuba today. The 45-minute documentary also features analysis from activists traveling with the Pastors for Peace Caravan—an annual journey calling attention to this controversial policy.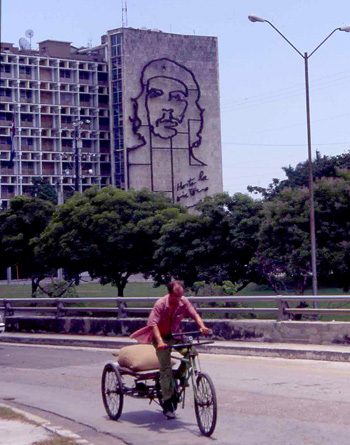 Bloqueo looks at the successes that have made Cuba a model in healthcare, environmental stewardship, and other arenas that forge an alternative, and ultimately more sustainable, system.

"Bloqueo raises important questions about the legitimacy and efficacy of the more than four-decade-old US embargo against Cuba, using testimonies from ordinary citizens to show how the embargo has brought hardship to Cubans and Americans alike. The film also highlights some of the impressive advances that Cuba has made in medicine, agriculture, and energy, despite the embargo. Folks might disagree over Castro's leadership, but one thing is clear--the embargo helps no one, and drives an unnecessary wedge between our two countries. I applaud this film for bringing our attention to this outdated and hurtful policy."
– Congressman José E. Serrano
"A must see! This film follows a group of inspirational US citizens as they exercise their constitutional rights of movement and travel. This film is a journey of discovery -unveiling why Cuba is key in providing answers to the world's problems but also a journey in defense of our freedoms at a time when so few remain."
- Ana Perez, Global Exchange Cuba Program Director
"It's hard to tell, here in America, what contemporary Cuba is really like. But the Cinematic Sisters, Rachel Dannefer and Heather Haddon, traveled there and got the word on the street from the Cuban people themselves. This wonderful film shows some of the amazing environmental and social progress that has occurred in Cuba."
– Rooftop Films, NYC
"The 45-minute [film] provides a good overview of the 40-year blockade. Why does it still exist? What have been the effects? Two filmmakers travel to Cuba with the humanitarian group Pastors for Peace to interview
activists, farmers, and clergy on the embargo's impact."
– Sojourners Magazine, April 2006
"The film is very informative and proves, again, that Cuba's adversary
is the US government, not the American people."
– Joaquin C. Pedroso, Alianza Martiana (Alliance of Progressive Cuban-Americans)
"Rachel Dannefer and Heather Haddon have produced a short and highly impressive, honest, open and engaging video that provides us with a concise understanding of how Cuba and Cubans are responding to the effects of the American blockade."
– Pat Fuller, in: CubaSi (Quarterly Magazine of the British Cuba Solidarity Campaign)

"Cuba's responses have been ingenious and inspiring, but the costs of the blockade are all-pervading. Warning - this 45 minute film will make you angry!"
– Steve Ludlam, Sheffield Cuba Solidarity Campaign, UK

---
Bloqueo is now being distributed by the Cinema Guild.
We join an award-winning catalogue of social issue documentaries.

Universities and other institutions should contact the Cinema Guild directly for copies.
Home video sales can still be conducted here.
Listen to the filmmakers discuss Bloqueo and the U.N. vote condemning the blockade on
Wake up Call, a daily progressive radio program broadcasting from New York City.

NEWS and REVIEWS:
January 2006 - People's Weekly World Review
December 2005 - Filmmakers present BLOQUEO at Film Festival in Havana:
Prensa Latina
Radio Havana
Granma / Periodico 26
---
We are proud to have had the following film festivals and organizations screen Bloqueo:
New York City Screening, Brecht Forum October 2005
International Festival of New Latin American Cinema, Cuba
International Festival of Documentaries, Three Continents, Venezuela
Rehoboth Beach Independent Film Festival, US
World Community Film Festival, Vancouver
Cine Latino, Germany
Bronx Independent Film Festival
South Bronx Film Festival
The Allied Media Conference
Reel World's Cuban Film Festival
NYC Grassroots Media Conference
Bluestockings Bookstore, NYC
ANSWER, San Francisco
Manhattan Neighborhood Network TV Station
Arizona Public Access Station
University of Washington
Victoria Local Exchange Trading System